Looking for something challenging for a memorable and productive senior team event? We have just launched a new business simulation, designed in collaboration with HR (Hydraulics Research) Wallingford and using their world class facilities. The team challenge: to lead the project to build a state-of-the-art 200 turbine offshore windfarm, and handle high levels of technical and business complexity, multiple environmental risks and challenges.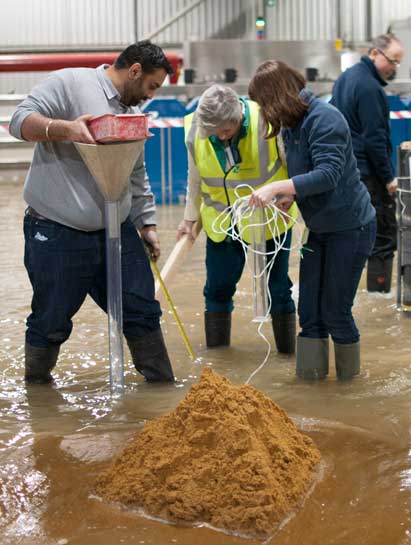 The combination of the Open Limits proven approach to team facilitation and project leadership development and HR Wallingford's extraordinary facilities has created a real winning formula. A group of senior executives and seasoned project leaders from many different organisations and sectors helped us to pilot the event. We were keen to ensure that the activities were authentic and stimulating, and the learning opportunities sufficiently rich and relevant to today's leadership and project team challenges. Below are some of the learning points shared by the group, with many thanks to all for allowing us to share this knowledge.
LEARNING OUTCOMES FROM THE PILOT GROUP
Not to ignore the "feel" element of project leadership. Find the right balance between 'Think/Feel/Do' – in our culture it's all about the doing The time spent discussing how we felt, especially at the start of the project was fascinating. We used words like 'vulnerable', 'confused', 'overwhelmed' and yet we are all experienced professionals! It was cathartic and built personal confidence and team trust to talk about how we felt. It helped us to spot and correct mistakes and misunderstandings before they had a ripple effect across the projects. Not easy for a bunch of engineers!
Proper planning and delegation of work is not bureaucracy – it is energising and creative if done properly. If you include more people in the planning phases, they learn from the experience and you reduce the communication overhead
Silos really are a killer on projects! Even in this simulation, as soon as we had people in different rooms, doing different things, different sub-cultures and knowledge areas emerged. It then took extra time we didn't have to bring everyone back to the same language/goals/approach. Not to mention the annoyance and resentment that people felt when they realised they had duplicated work. All of which, if avoided, makes considerable impact on timing and quality of delivery and on team energy and commitment. Magnify all of that into the real world of our multiple projects and programmes and global organisation …
In the simulation we were able to reflect on the first session and improve on the second. – We need to make time back at work for reflection sessions like this at key points in a large project's lifecycle. The time and cost of this is a fraction of the time and costs saved. You have to feel and see it to believe it.
As technical specialists we tend to dive into the 'doing' far too quickly. By doing this we leave our key stakeholders wondering whether we are actually up to the job of delivering the business benefit. When we spent time engaging with key stakeholders we earned their trust and they stopped 'micro-managing' us.
Agreeing how to communicate across the remote teams was key. When we over communicated, at the wrong time, we actually distracted people from doing their work, and annoyed them. The problem was that management desperately needed that information, but we hadn't explained the criticality.
Making mission critical decisions, you have to take the extra time to consult with the people on the ground. The installation crew were not consulted on the decision to turn the ship back to harbour, they had information that could have saved the mission but management did not ask them! We need to consult further 'down the tree' and make sure we are making decisions based on valid information. It is motivating and educational for the teams involved and makes management look like it listens and cares!

TESTIMONIALS
'A huge amount of information to take away that is relevant to my role and I can use'
(Tony Appleton - Business Development Director, Parsons Brinckerhoff)
'An excellent opportunity to develop leadership skills. One day was not enough!'
(Nick Podevyn - Senior Project Manager, Res-Offshore)
'Impressive, and great fun!'
(Neil Wimbledon - Head of Projects & Strategic Systems, British Gas)
'The Ship Simulator was amazing and really brought the project leadership principles to life'
(Rachel Pedrick - Met Ocean Manager, UTEK Geomarine Ltd)
'The facilitators helped us to realise the wealth of experience in the room and how to tap into it'
(Vic Gabrie - Consulting Manager, Oracle)
'I found the simulation interesting, challenging and fun!' It is always a challenge making engineers/scientists take on board 'soft skills' as we are too used to analysing data and being professional sceptics!'
(Chris Lomax - Technical Director, Head of Ports & Marine, Parsons Brinckerhoff)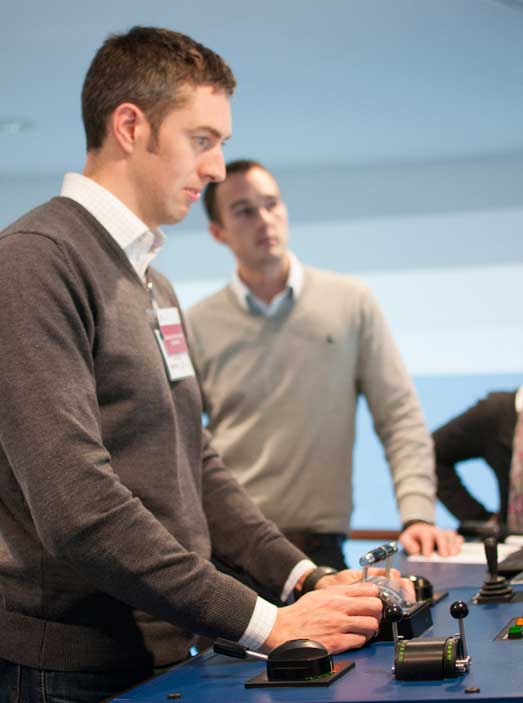 THE SIMULATION
The UK is currently the world's biggest offshore wind market due to the relatively strong winds and shallow waters around the UK coastline. The UK government is keen to meet the European Union target of 15% of final energy consumption from renewable sources by 2020 and is focusing on off-shore wind.
You will be a part of a multidisciplinary team of technical specialists, contractors and business leaders. You will be required to complete a feasibility study to lay the cables on the sea bed to connect the 200 turbines, and then to take the installation crew out to the turbines for commissioning. In itself this is a multi-£million project. You will need to scope the full Windfarm programme and influence decision making by engaging with all internal stakeholders, plus government agencies and environmental groups. If you meet the project deadline you will secure the EU green energy subsidy for the whole programme. The company's 5-star safety rating must be maintained however, so speed and safety are paramount.
To achieve the mission you will need to demonstrate:
Personal resilience and self-awareness
Ability to create and communicate clarity out of complexity
Optimum communication flows – to and from all stakeholders: useable, targeted information
Team work and cross-team collaboration, across diverse specialist groups
Balance between flexibility and creativity, efficient working practices and compliance
Commercial and strategic thinking (business value, outcomes, costs and risks) as well as technical excellence
Juggling priorities and help others to juggle theirs
Handling and minimising conflicts during disruptive change
Presenting and influence with impact
Management of high levels of uncertainty and risk
You will receive valuable feedback from the facilitators and from fellow participants after each round of the simulation. Elements of the event will be videoed as an additional learning opportunity, and facilitators will provide a full summary of learning points and recommendations, relating to the objectives set by the group.
For more information on these simulations contact Nigel Hale on 07737819225, +44 (0)1202 473782, [email protected]